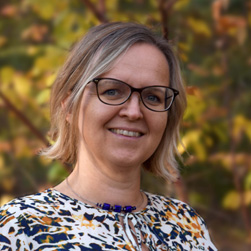 Anetta Banas

MSc, P.Geol.
Senior Geologist
Anetta has over 15 years of experience in the minerals industry. She joined APEX in 2006 after completing her MSc from the University of Alberta (U of A) on diamonds and their inclusions. Anetta is a Professional Geologist registered with the Association of Professional Engineers and Geoscientists of Alberta (APEGA) and is a Qualified Person (QP). Her consulting experience includes a diverse range of commodities including diamond, gold, silver and base metals. She has been involved in assessing the exploration potential of kimberlite provinces around the globe including in Canada, Australia, and the USA as well as planning and implementing diamond exploration programs ranging from grassroots to advanced exploration.
Anetta's geological consulting services include data interpretation, GIS project management, diamond and diamond inclusion analysis, presentations and reporting, including NI 43-101 technical reports and assessment reports, for various jurisdictions as well as ensuring NI 43-101 compliance. She has authored and contributed to numerous technical reports, government publications and journal manuscripts as well as presenting at international and national conferences.
Anetta is a conscientious manager with excellent organizational and communication skills that have helped streamline APEX's office and field operations.
Anetta maintains strong ties to the University of Alberta and is involved in ongoing research on diamonds particularly in relation to advancing exploration and mining projects. She is passionate about facilitating relationships between industry and universities through her involvement with the Diamond Exploration and Research Training Program (DERTS) since 2016.
Services Provided
Technical Report Writing
Public Reporting Compliance
Assessment Report Writing
Data compilation, and management
Data Analysis and Interpretation
Diamond and Inclusion analysis
Personnel recruitment
Supervision and mentorship of staff
Deposit Styles
Kimberlite (Canada, Africa, Australia)
Epithermal Gold ± Silver (Canadian Cordillera)
Volcanogenic Massive Sulphide (Canadian Cordillera, Northwest USA)
Orogenic Gold Deposits (Arctic Canada)