Services
Resource Estimation Services
Mineral resource estimates (MREs) serve different purposes depending on your Project's stage within the mining cycle; however, they always inform critical decisions by the operating company and, in most cases, investors. Therefore, MRE studies must be robust and accurately represent the deposit to instill confidence in the Project's stakeholders.
With a deep background in geology and expert knowledge of geostatistical methods and theory, APEX offers a unique service to fulfill your Project's needs. APEX has experience creating NI 43-101, JORC, and SAMREC-compliant resource estimates for various projects and commodities worldwide.
APEX's Resource Team is highly specialized and experienced in deposit-forming geological processes, geostatistics, and resource estimation best practices. While software mastery enables model generation, the resulting model will undoubtedly be undermined if the geological system controlling the deposit formation is not understood. For this reason, APEX employs a geology-first approach to geostatistics and resource estimation, ensuring that sound geological principles guide all modelling decisions.
APEX can utilize many different resource estimation and geostatistical tools and methods when completing resource assessments depending on the needs of the Project. APEX combines advanced geostatistical tools with custom python packages and algorithms, empowering them to select the tools and methodologies best suited to the needs of the Project.
MREs are not only a product to release to the public. APEX works with its clients to leverage as much information from MREs so our clients can use them internally to inform decisions regarding resource expansion drilling and design programs to derisk the Project.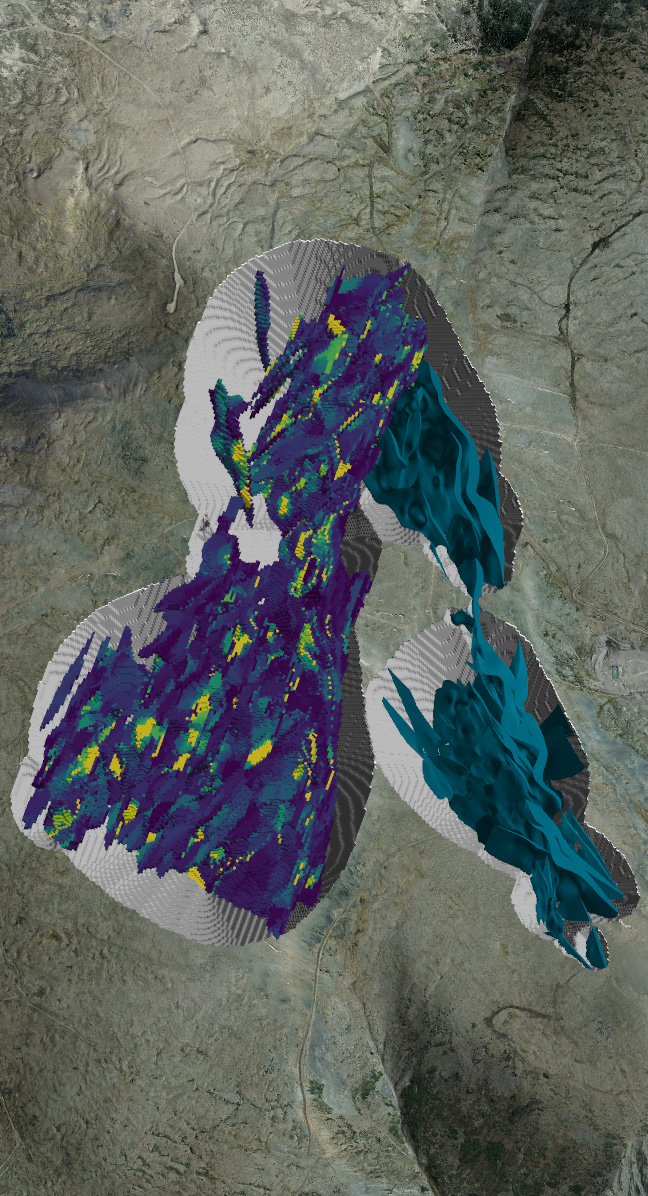 Use and Applications
Density and Metallurgical Program Design

APEX uses an integrated approach to evaluate geological settings, mineralization style, and resource models to design more effective drilling plans to refine density and metallurgical responses such as recovery. This work is particularly critical before beginning feasibility studies.

Economic Studies

APEX builds resource models for economic studies to determine the economic viability of mineral deposit. Resource models are critical input to trade-off studies evaluating mining methods, processing techniques, and market conditions to determine if developing the deposit into a mine makes economic sense.

Internal MRE

Using mineral resource estimates internally to inform decision-making is a critical aspect of project development. Internal MREs can be a method to quickly test different interpretations, resource estimation methodologies, and drillhole plans designed to upgrade resource classification.

Maiden MRE

APEX creates Maiden Mineral Resource Estimates, an essential step in project development. It establishes the first resource estimate for the market and serves as the foundation for further exploration and resource definition work.

Resource Expansion Planning

APEX helps clients expand resources by using an integrated approach to evaluate the project's geological setting, mineralization style, resource model and classification criteria. The outcome is that APEX can then use that plan to design an optimized drillhole program to expand or upgrade its resources.

Updated MRE

APEX creates updated Mineral Resource Estimates that keep the market informed of progress made since the last estimate and provide critical information for investors and project developers to make informed decisions about how to further develop the project before completing economic studies.