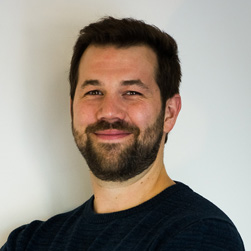 Warren Black

MSc, P.Geo.
Senior Geologist & Geostatistician
Warren is a highly skilled and experienced Geologist and Geostatistican with over 10 years of experience in the mining industry. He holds a Bachelor of Science with a specialization in Geology and a Master of Science in Mining Engineering, specializing in geostatistics, from the University of Alberta. Under the supervision of Clayton V. Deutsch, Warren conducted extensive geostatistics research on using massively multivariate geochemical data in mineral prospectivity modelling. Warren is a registered Professional Geologist with the Association of Professional Engineers and Geoscientists of Alberta (APEGA).
Warren has prepared numerous resource estimations and geological models used internally or for disclosure in technical reports ranging from Maiden Resources to Feasibility Studies. His extensive field experience throughout his career has given him a deep understanding of the complexities of geological data, enabling him to improve the quality of his modelling deliverables and optimize the procedures APEX uses to generate them.
Warren is an expert in geostatistics and geological modelling, providing valuable insights and solutions to help clients unlock the potential of their mineral assets. He has the knowledge and experience to tailor his approach to the specific needs of each deposit and uses the right tools and techniques to help clients better understand their mineral assets. Moreover, Warren has a wealth of experience using multiple programming languages and mining-suite software. He is constantly exploring ways to improve operations and increase efficiency by leveraging these tools, such as using machine learning or developing custom software to drive innovation in the mining industry and deliver the best outcomes for his clients.
Services Provided
Mineral Resource Estimations (CIM standard).
3D Modelling and interpretation.
Leverage green and brownfield geological data providing:
Regional and Deposit scale targeting
Mineralization style characterization
Drill hole spacing analysis
Rock density and metallurgical response characterization
Data validation, integration, and analysis
43-101 technical and assessment report preparation.
Creation of custom geostatistical, statistical, and data-management programs and algorithms to suit the needs of specific projects.
Deposit Styles
Carlin-style gold (Nevada)
Archean lode-gold (Nunavut, Ontario)
Au-Cu skarn (British Columbia)
Au-Ag skarn (Nevada and Western US)
Au-Cu porphyry (British Columbia)
Au-Ag ±Pb-Zn mesothermal (Western US and British Columbia)
Au-Ag epithermal (Western US and British Columbia)
Cu-Mo porphyry (Nevada)
Fe-Ti-V igneous cumulate (Greenland)
Mississippi Valley-type lead-zinc (Nunavut)
Sediment-hosted stratiform copper (Nunavut)
Algoma-type BIF hosted iron (Nunavut)
Intrusion hosted REE (British Columbia)
Frac Sand (Alberta, Manitoba, Wisconsin)
Lithium Brine (Alberta, Arkansas, Germany)